Social Media Monetization is an important set of words for business sector, trying to analyze social media sites like Twitter. And for monetization of these social networking websites, media measurement tools are employed. These tools are basically tweet analyzing software that assists a company with various kind of analysis including sentiment and behavioral analysis. Monitoring tweeting habits and tweet content helps in keeping a tab on tweeps posing as a benefit for business prospective.
Corporate sectors planning to make use of social media marketing for online popularity cannot overrule the importance of twitter monetization today. Twitter tools assess and measure tweet fluctuations, make a data of hash-tag frequency, quantify regular twitter activities like profile and status update, and chart count of followers and more. Social media through twitter is undoubtedly a major marketing tool, considering the heavy competition among brands trying to attract netizens today.
We bring to you 5 extraordinarily useful twitter tools that will support your aim of social media measurement by analyzing tweets and the brains behind them. Divided into categories like sentiment analysis, behavioral and opinion analysis, these tweet software basically work by breaking down the tweet data and content to assess them and present them statistically.
We'll show you how to make apt use of these tools to explore the inside out of Tweets and get the maximum benefit by analyzing them to your business's favor.
Sentiment analysis
Purpose of using social media websites, by corporate industry, is to track the popularity and image of the company or its product in the online circle of prospective clientele. But, tweeting alone will not help in keeping a check on things being said or the sentiments of tweetizens.
Sentiment analysis is designed to provide you with statistical data of negative and positive sentiments about your brand, services and products being launched. Two remarkable Twitter sentiment analysis tools are Twendz and Viral Heat.
Twendz
Twendz is a fabulous tweet analyzing tool that works by focusing on tracking sentiment based analysis. This tool gives you the real insight picture of your brand's image or product's ranking by breaking down a collection of relevant tweets and scrutinizes them through categories like negative, neutral and positive, each one represented by a color like red, white and green respectively.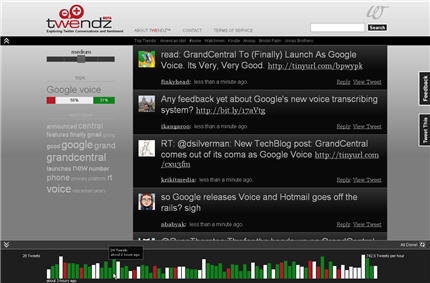 Viral Heat
Viral Heat is also a great sentiment analysis tool that supports your social media measurement, by dividing tweets into categories like positive, negative and neutral along with percentages. But, apart from giving you the analysis based on good and bad tweets, Viral Heat does lot more.
This tweet analyzing tool goes deeper into the tweet dissection and offers information like active tweeters, percentage of tweets including URLs, websites and videos being shared among tweetizens, and more.
Viral Heat is quite useful for corporate industries looking forward to keep a check on the performance of their marketing campaign on internet.
Opinion analysis
Opinion analysis is done by comparing a selection of tweets against more number of tweets on the same topic. This kind of analysis helps in understanding nature of tweets as well as how they stand against other tweets. Opinion analysis is the easiest way to understand general consensus to support a media campaign for business purpose. One such amazing twitter opinion analysis tools is crimson hexagon.
Crimson hexagon (VoxTrot Opinion Monitor)
One of the most powerful social media monetization tool, Crimson Hexagon consist of a superb opinion tracking system called VoxTrot Opinion Monitor. Using its powerful opinion tracking system, crimson hexagon supports the tweet analysis by tracking tweets based on predefined subject. It tracks tweets, divides them in categories according to the tweet content and finally develops a statistical data based on breaking down of the content.
For example, this tool breakdowns content of subject defined tweets and offer opinion characteristics, for example, 'Who Cares',' Nice Service', 'Bad Company' and more.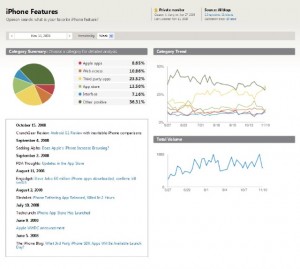 Twitter Behavioral Analysis
When all you want is to track the tweeting pattern and tweet behavior of tweetizens who could affect your business campaign, you need a remarkable twitter behavioral analysis tools like TweetPsych and Twitoaster.
TweetPsych
Social media monitoring tool of behavioral analysis, like TweetPsych (built by Dan Zarrella), work mostly by analyzing and monitoring linguistic characteristics of group of related tweets. TweetPsych measures number of tweets and create a psychological profile to explain the tweeting pattern, which helps a social media campaign in judging the kind of response to expect from tweetizens.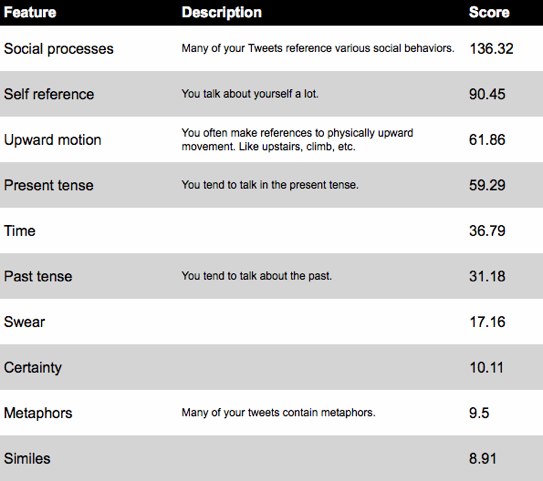 Twitoaster
Twitoaster works the same way by analyzing the tweeting activities and creating a statistic based data that makes it easy to understand the tweeting behavior. Twitoaster analyzes the tweet activity by threading tighter various tweet conversations on web. This surely helps a social media campaign by giving the tweeting style, conversation characteristics, as well as tweet and replies count per hour, week and day.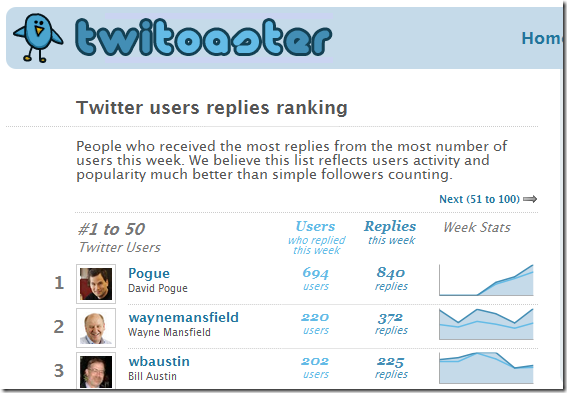 Twitter analysis tools or software are basically social media monetization or measurement tools that support a business concept by measuring tweets on opinion or behavioral pattern, to help a company in strategizing its Twitter marketing campaign.
Because in the Social Media Marketing world, the more you know about the people you wish to deal with and how they react to your marketing approach, brand awareness or blog posts, the better it would be for your business online.
Tags: tweet analysis, tweet analytics, tweet tools, twitter, twitter analysis, twitter analytics, twitter tools